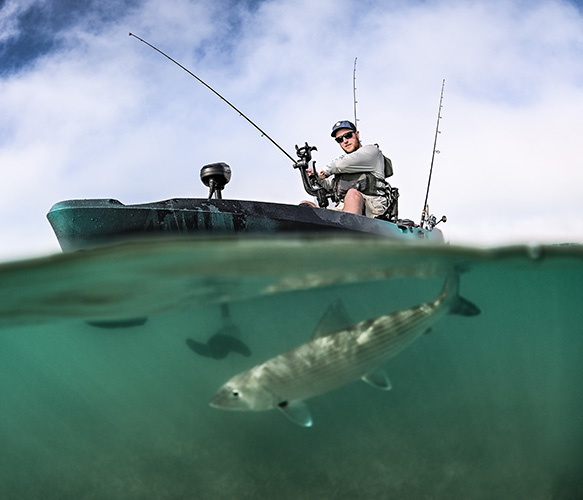 Fishing kayaks have become increasingly popular in recent years as a way to get out on the water and catch fish without the need for a motorized boat. With so many different models and brands on the market, it can be overwhelming to choose the best fishing kayak for your needs. Here are a few things to consider when picking the best fishing kayak in 2023.
Length and width: The length and width of a kayak can have a big impact on its stability and maneuverability. A longer kayak will typically be more stable, but also less maneuverable. A shorter kayak will be more maneuverable, but also less stable. The width of a kayak can also affect its stability and maneuverability, with wider kayaks generally being more stable and narrower kayaks being more maneuverable.

Weight Capacity: Make sure to choose a kayak that can accommodate your weight and the weight of any gear you plan to bring along. Make sure you check the capacity of the seat in the kayak also, that can make a difference in the kayak that you do choose. The capacity is the total of the gear plus the weight of the paddler, so be aware of that.

Storage: Consider the amount of storage space you will need for your fishing gear and any other equipment you plan to bring along. Look for kayaks with built-in storage compartments or hatches, as well as bungee cord rigging or other storage options. Many kayaks are now coming with rod storage now, if you are looking to take many rods with you this is another thing to think about. 

Comfort: Look for kayaks with comfortable seats and footrests, and consider the amount of legroom you will need. Most kayaks are now coming with frame seats that are extremely comfortable and allow you to spend hours on the water fishing.   

Durability: Fishing kayaks are exposed to saltwater, sun, and other harsh elements, so it's important to choose a kayak that is built to last. Look for kayaks made with high-quality materials and with good warranties.

Fishing Features: Many fishing kayaks come with built-in rod holders, fish finders, and other features that can make your fishing experience more enjoyable and successful. Consider what features are important to you and look for kayaks that have them.

Pedal System: Pedal drive kayaks in 2023 are coming with many different types of pedal systems to choose from. The main two are going to be a prop-driven system and a fin-driven system. The best way to figure out what the most comfortable for you is to take them out. Check out your local dealer for a place to get multiple boats on the water. 

Price: Fishing kayaks can range in price from a few hundred dollars to several thousand dollars. Consider your budget and look for the best kayak within your price range.
Some popular fishing kayak brands in 2023 include Hobie, Old Town, and Crescent, but there are many other great options as well. Be sure to do your research and test out different kayaks before making a purchase.
In summary, when choosing the best fishing kayak in 2023, consider the length and width, weight capacity, storage, comfort, durability, fishing features, and price.
It is important to note that the best fishing kayak for you might not be the best for another person, because the best kayak is the one that fits your specific needs and preferences.